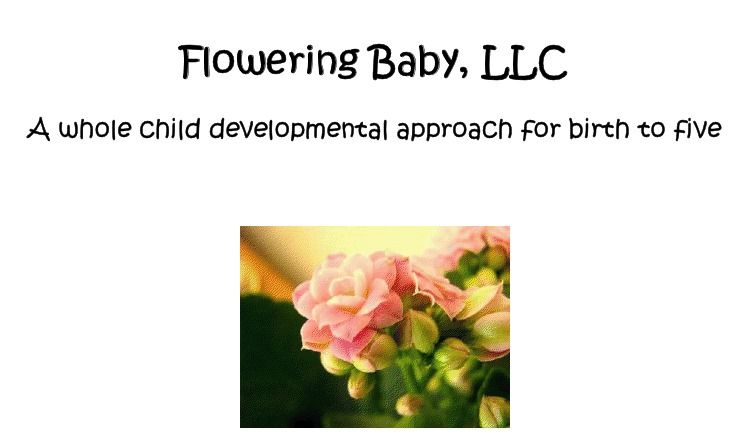 Since having my daughter almost two years ago, I will be honest and say that I have not done much with her academically. The older three children take up a lot of my time with their school work. I haven't devoted as much time to reading to her or sitting down and playing with her as I should have been. I jumped at the chance to be able to review something that was geared just for little ones.
Flowering Baby, LLC is a curriculum written by a mother and daughter to assist parents in teaching their children from the day they bring the child home from the hospital. The curriculum is broken up into five parts:
Each year offers age appropriate activities such as singing, drawing, and reading.
You can purchase the curriculum by visiting their shop. The 1st three years are $30 for each year. The last two years are $38 for each year. All five years are $132. PS: Keep reading. I have a special code just for you.
Since my daughter had just turned 22 months, we used the One to Two Year curriculum.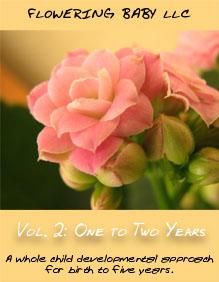 When I first received the product and started reading what I was going to teach and do with my 22 month old, I was excited. She was excited to get to do "school" like her older brothers and sister. I got the supplies ready and we started. My daughter loved the dancing and singing. She would clap after we finished singing a song. She loves books and loves when any of us read to her. On one of the days, we were to sing the "Wheels on the Bus" song. We just happened to have a book The Wheels on the Bus. We read and sang from the book. When we would listen to music on a CD, we would dance around and have fun.
Here is a sample day from the curriculum for the 22nd month:
Day 6 ~
-Play "Where did it go?" Using three cups, hide a small object under one of the three cups, move them around a few times, and then say "Where did it go?" If this is difficult for your child, move your hands slowly and let the child see what you are doing. If this is too much just use two cups or even your hands. -Read Hello Toes, Hello Feet. -Play "Wee Sing" CD today. Enjoy and sing along.

To see a full month's preview of the One to Two Year old curriculum, click here and scroll to the bottom.

As you can see, it is a fun and entertaining time to spend with your little one. You spend about 20 minutes a day with your child playing, reading, singing, dancing, and drawing. And if your little one is anything like mine, they will enjoy themselves tremendously.

I really liked that everything was written out for me and I did not have to do any extra planning, except for visiting the library to get some books. Even the rhymes and songs for the year are listed in an appendix at the end of the curriculum. During the month, I did have to substitute a book (which is okay). For instance, one day we were suppose to read Clifford, the Big, Red Dog. We didn't have or get from the library that exact title, but we did read a different Clifford book. I also loved that the child listened to both classical music and fun music. My daughter loved dancing to both kinds of music!

I loved everything about this curriculum. Seeing my daughters face light up every day was well worth the 20 minutes it took to do these activities with her. She loved it so much, she would keep bringing me more books to read to her. She also wanted to sing more songs every day.
This curriculum does start at birth, with doing things like holding and soothing your newborn. As the baby gets older you start reading and doing activities with them. At the three to four year level and four to five year level, there are two parts.
From the website:
". . . a daily general education guide and the theme studies. The general guide includes math, language, science, physical, self-help and such. The theme guides are twenty-four specific theme (mini unit studies) that you incorporate throughout the year. We suggest you select two themes each month. There are approximately six days of activities for each theme."
I look forward to continuing to use this curriculum with my daughter as she grows and starts learning more things. I know she loves to have school time every day now too.
Now, for what you all have been waiting for: use code BLOG10 to receive a 10% discount when ordering.

Disclaimer: I received a free copy of this product through the Schoolhouse Review Crew in exchange for my honest review. I was not required to write a positive review nor was I compensated in any other way. All opinions I have expressed are my own or those of my family. I am disclosing this in accordance with the FTC regulations.