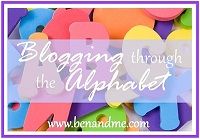 A is for Amazed! I was looking through some pictures last night of my boys when they were just babies.
It's just so amazing how fast they are growing up and turning into young men.
I look at my oldest daughter and am amazed at how much she has grown and matured over the last couple of years.
And then, to look at my baby and see how quickly two years has flown by, I realize how short of time I have left with my children.
Watching your children grow up is amazing! Be sure to make the most of it with the time you have left with them.