When I was given the chance to review
MusIQ Homeschool
offered by the company
Adventus
, I was excited. I had taken piano lessons as a child and have wanted my children to be able to learn how to play the piano, but it was never in our budget.
MusIQ Homeschool
is offered as a monthly subscription for $10.95. It is recommended for children ages 4-18. With each monthly subscription, you receive seven levels of curriculum/software. It is downloaded onto your computer, but does need the internet to be working in order for the software to work. Also, a piano with MIDI capabilities and a usb/midi cable is required to use this software. Once downloaded, you just plug the usb/midi cable into the piano and computer and start up your lessons.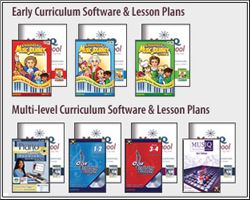 The different levels consist of
three years
of Children's Music Journey for ages 4-10 and
four years
of Piano Suite for ages 10- adult. Lesson plans are available for an additional cost when paying for the monthly subscription. The lesson plans include activities, assessments, and quizzes. Since my children had no piano knowledge at all, I decided to start them all on Children's Music Journey Vol 2.
Using it with my children, ages 11, 9, and 7~
When your child first gets started, a famous composer greets them and leads them through the lesson. There is a short piece of music written by that composer before and after the lesson. I thought this was a great way for the children to get to listen to some classical music.
During the lesson, the composer guides the child with finding the right notes on the piano. I went through some of the lessons to see how this was different than when I took piano lessons. I really liked that the software was child friendly and encouraged the child to play the right notes. Even my 2 year old wanted to learn. She is "helping" me in the photo below.
After the child has done their lesson, they go to the practice room to practice what they have just learned. Miss Melody helps the child to become better at what they learned. My children were surprised that when they missed a note, she reminded them to be careful. They said that this helped them to learn the notes and it made practice fun.
Since I have had lessons as a child, I skipped through the lessons quickly. About halfway through the lessons in Children's Music Journey Vol 2, the child gets to give a concert. They practice with Melody and go to the next lesson and play all the songs they have learned and practiced. I loved that the children are able to actually have a mini concert and will learn to play three different songs on the piano. Here is a short video of one of the songs (I am playing):
Another favorite area for my children is the games. I let them play as many games as they wanted after they had done their lesson and practice. As you can see from the photo below, they have unlocked four different games. As the lessons go on, a new game will be unlocked and eventually all of the games will become unlocked.
As you can see, there are a lot of ways for the child to learn to play the piano and it is fun for them. It was something they looked forward to every day. They could not wait until it was time for them to practice the piano or do the next lesson. They love it! I have also enjoyed going back and learning some things I had forgotten. I look forward to them being able to play many songs in the years to come.
Additional thoughts ~
As I mentioned earlier, I did take piano lessons when I was a child. I am going to admit that when I first started out, I loved it. I loved my teacher and I loved the piano my parents bought me. After a few years, my teacher moved away and my mom found another teacher. It was with this second teacher where I started to dislike taking piano lessons. I feel she put too much pressure on me and if I didn't play the song her way, then I was a failure.
I loved that with this software the children are able to take the lessons in the house with some great teachers. This software is interesting, colorful, and engaging. The best thing about this program is that you, the parent, are able to be involved with their lessons. My parents never attended my lessons and had no idea if I was even practicing the right pieces of music. Another thing I liked about the program was that the lessons are not very long. The lessons take no more than 10 minutes. This helped to keep my child's attention. I also let them practice and play games for 30 minutes a day. When I went through through the lesson, practice, and games, I also found them very enjoyable. There was no pressure on you if you played the wrong note during the lesson or practice.
Conclusion ~
My kids and I give this a five star rating!
Bonus:
You can try out this software for a week for
free
! All you need is a midi capable keyboard, a computer with internet, and a usb/midi cable (about $5 on
Amazon
).