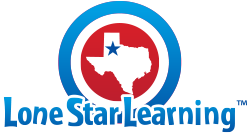 Have you ever tried to explain a science term to your child and they are just not getting it?
Lone Star Learning
offers products for math, science and reading. My children love science. They were very excited when we received the
science vocabulary picture cards, set 1
. These cards are available to use for children in third grade through eighth grade.
As you can see from the picture above, the cards show the child what the word means. For example, see how the word "inherited" shows a father and son who look alike. The child can see that "inherited" means looking like a family member or from the answer sheet: a characteristic that is passed from parent to offspring. With set 1, my boys, ages 11 and 9, knew what almost every word meant in the set. They still had a lot of fun going through the cards and looking at the pictures. They would tell me what they thought the definition of the word was according to the answer card that came with the set. My daughter, age 7, did not know what most of the words meant, but it was very easy for her to catch on just by looking at the picture. She has a lot of fun going through the cards every day and looking at the picture words. We are using these cards when we do our science almost every day. If any of them come across a word from the set in their science curriculum, they like to see how it is explained in picture. We will continue to use these as we finish out our science for the school year. I also wanted to mention that these cards are not small, they are a good size (5.5" X 8.5") and they are very sturdy.
Because of a shipping mistake, I originally was sent the math target vocabulary pictures, set 1. Lone Star Learning allowed us to keep the this set. They did not have to let us keep the cards, but they were generous and allowed us to keep them to use also. While I did not use this set as much as the science set, I did let my children look through them whenever they wanted.
The science vocabulary cards are $29.99 for each set. There are four sets to choose from for 3rd through 8th and one set for kindergarten through 2nd. The math cards are also $29.99 and come in two different sizes and also have four different sets.
Disclaimer: I received a free copy of this product through the Schoolhouse Review Crew in exchange for my honest review. I was not required to write a positive review nor was I compensated in any other way. All opinions I have expressed are my own or those of my family. I am disclosing this in accordance with the FTC regulations.