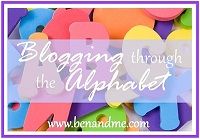 Cleaning! I actually had no idea what I was going to write about for 'C' until I saw a post from
Money Saving Mom
. Money Saving Mom is having a 30 day cleaning challenge. Today is day 1, so if you would like to join, it is not too late.
Today's
project
was to surface clean your kitchen and living room. I had just done a deep cleaning because we had family over for Easter, so this should be a great motivator to maintain the cleanliness.
Here is the before of my kitchen. I don't know if you can tell, but there are dirty dishes in the sink and the counters have not been wiped.
Another before of the dirty stove and messy counter top. Here you can see my Amish Friendship Bread starter- I will write about that another time.
So my plan for the project for today was to clean up from the days meals in the kitchen, including washing the dishes, wiping down the counter, and cleaning the stove. I swept the floor too. I also need/ want to steam mop the kitchen floor, but I will do that after everyone has gone to bed. I didn't get a chance to do it this weekend.
Ta-da! Dishes are done and the counters are wiped down. I told my kids and husband that once I had the kitchen cleaned up, we could eat our dessert. I made a pinterest recipe for dessert- pineapple angel food cake. It is so easy to make. You take a can of crushed pineapple and mix it with a box of angel food cake mix- don't add anything else. Bake it at 350 for 30-40 minutes.
I bought some whip cream to put on top. Yum!
Okay, back to the cleaning ~ I don't have pictures of the living room, but we just cleaned it this weekend for family, so it is still pretty clean. I do plan on going through after everyone is in bed to make sure everything is still tidy.
I hope I can stick with this 30 day challenge. It will make my life so much easier. It's so hard for me to fit cleaning into my schedule, but doing a few little things every day will make it a little easier to deal with. I'll probably update once a week on my progress.