When I was given the opportunity to review a product from
Leadership Garden Legacy
, I was excited to be able to use this with my children. My younger son is a born leader. I was hoping I could use this book and materials as a tool for him. When I first received the physical books, I was impressed with the quality. It was also very easy to download the pdf's and mp3's to the computer. Below is a list of what I received ~
For use with children ages 8–12:
U.N.I.Q.U.E. KIDS: Growing My Leadership Garden
~ $18.95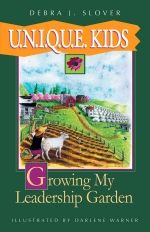 This chapter book is for children ages 8-12. This is a beautifully illustrated book written as a fable. In this book, Hugh, the sheep, has been wandering around because he ran away from his flock to get way from the coyotes. While he was wandering, he happened to find Leadership Farm. With the help of Leda, Aristotle, Annabelle the dog, and several other animals, Hugh learns how to become a leader. He visits the different animals on the farm with each one describing a different character trait which uses the letters in U.N.I.Q.U.E.
Understanding

Nurturing

Inventive

Quality

Unstoppable

Expression
U.N.I.Q.U.E. KIDS Activity Guide & Journal
~ $8.95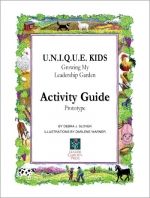 The activity guide is a pdf download which compliments the chapters in the book. There are several pages of activities and it also includes a printable My Leadership Garden Journal.
U.N.I.Q.U.E. KIDS Audio Book - MP3 Download
~ $8.95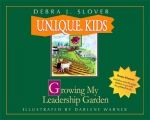 These MP3's are great for the children to listen to while out of the house and in the car.
For adults:
U.N.I.Q.U.E.: Growing the Leader Within
~ $18.95
This is an adult version of the
U.N.I.Q.U.E. KIDS: Growing My Leadership Garden
. While it still covers the same leadership traits, it also covers some of the author's own life experiences.
The Leadership Garden Guidebook
~ $18.95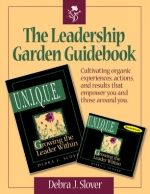 The adult guidebook to go along with
U.N.I.Q.U.E.: Growing the Leader Within
.
U.N.I.Q.U.E.: Growing the Leader Within - Audio Book MP3
~ $14.95
How I used this ~
I used the U.N.I.Q.U.E. KIDS: Growing My Leadership Garden as a read aloud. I would read a chapter to my children (ages 7, 9, and 11) every few days. I would read the chapter and then allow them to discuss the questions at the end of each chapter. I let them work on their Leadership Garden Journals over the next couple of days before moving on the next chapter. We also used the mp3's in the car when we had places to go. One note about the mp3's- it doesn't have any chapter breaks, so when we stopped it, it would start at the beginning the next time we started it. This could get annoying if you were to use it everyday. We only used it a few times and fast forwarded to where we needed to be.
What I thought ~
My children and I really enjoyed reading about Hugh and learning all of the quality traits it takes to become a leader. I liked that at the end of each chapter, the animal asked Hugh if he remembered the lesson that was learned. When discussing with my children what lesson they learned, they were able to put it into their own words. Although this is not a Biblical character training study, this is still a good book on leadership. My children know that the Bible is our first guide for learning leadership traits. During our discussions, my children would bring up "what the Bible says" about the trait we were discussing.
Bottom line ~
This is a great tool for discussion. It can be used as a secular character training guide or use it as we did and find Bible verses that correspond to the traits. My kids enjoyed hearing the story about Hugh and I enjoyed the discussions I had with them.
The author is offering a 20% spring special discount for all my readers. Enter code: TOS-SS20D at checkout. This code will only be available until May 31, 2013.