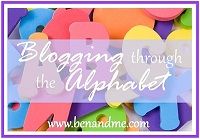 Going hiking! Okay, I was having a difficult time coming up with something for the letter "G" of blogging through the alphabet. I didn't want to get too far behind, so here is my "g" and "h" post.
A few weeks ago, the kids and I stopped at a place near our house and hiked a couple of the trails. These trails are about 1/2 mile each and are listed as easy. One of the trails follows a little creek.
The kids had to stop every once in a while to see if they could see anything in the water. There is a little waterfall at one of the spots along the trail.
This particular state park actually has a major river that runs through it. Near the rivers edge, there are some beautiful trees.
There are also some cliffs that overlook the river.
We had a great time going hiking! Looking forward to going again and hiking one of the other more difficult trails.