I was given the opportunity to review
One Minute Mysteries: 65 More Short Mysteries You Solve With Science
by
Science Naturally
. This book was written by a father and daughter, Eric and Natalie Yoder. One Minute Mysteries is a book that contains 65 short mysteries that you solve with science. This book is geared for children ages 8-12.
One Minute Mysteries
is available for $9.95. (Read to the end for a special offer)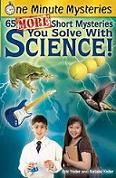 One Minute Mysteries: 65 More Short Mysteries You Solve With Science
is split up into four different sections which are Life Science, Earth and Space Science, Physical and Chemical Science, and General Science. Included in this book is a bonus section of five
One Minute Mysteries: 65 Short Mysteries You Solve With Math
. There is also an index at the back of the book to easily find stories.
How we used this book and what we thought:
When my boys finished their schoolwork for the day, I would sit down and read a few of these stories to them. I would let them tell me what they thought the answer to the story would be. My oldest son, age 11, loves science and could usually guess the solution. My younger son, age 9, had to really think about some of the answers and did get a few wrong. Overall, my boys loved this book. They loved that the stories were short and that they had to figure out the solution. When I finished reading them the stories, they went back through and re-read some of them again. They give this book 5 stars! I really enjoyed reading this book to my boys to find out how much they really knew about science. It also helped strengthen their listening skills. They had to pay attention so they could get the answer. I also give this book 5 stars!
Special offer:
You can purchase any 3 books at
Science Naturally
for only $19.95 with a shipping rate of $2.95. Just enter coupon code 3SPEC in the shopping cart at checkout.