My oldest son has gained an interest in wanting to learn Latin recently. I was excited when I found out I was able to review
Prima Latina
from
Memoria Press
.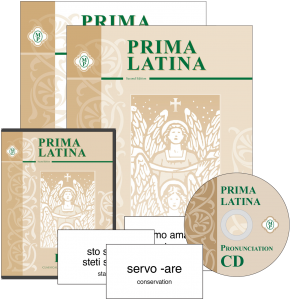 We received the complete set to review. This set includes the student book, teacher manual, pronunciation CD, instructional DVD's, and flashcards. The complete set is $90.90 and geared for children in grades 2-4.
Prima Latina is an introduction to Latin. This curriculum includes 25 lessons and teaches grammar concepts. Vocabulary words, sayings, and prayers are also taught in the course.
Check out a
sample lesson
and
table of contents
of Prima Latina.
How we used Prima Latina:
My children, ages 11, 9, and 7, would watch the new lesson on Mondays. The next couple of days they would all work together in the student book. On Thursdays, I would help check over their work and they would listen to the pronunciation CD. On Friday, we reviewed using the flashcards.
What we thought of Prima Latina:
Since I have no knowledge of Latin, I loved the DVD's. I felt that the teacher, Leigh Lowe, did a great job of teaching the lessons. I loved having the pronunciation CD for times when the kids needed to hear how something was pronounced. The student manual did a great job of guiding the kids and allowing them to write what they learned. It was also nice to have the teacher manual, just a copy of the student guide with the answers, to make sure the kids had the correct answer.
All three of my children really enjoyed watching the DVD's and working together on the lessons. They have learned so much already and we will continue using this and finish it up so we can move on to the next level.
Check out what the rest of the crew thinks about Prima Latina and also Geography.