I was first introduced to
See the Light
last year. I was given an
Art Class
DVD to try out. I was very impressed with it, that I was so excited to be given the opportunity to try out a different DVD. We were given
Paper Jungle
to try out.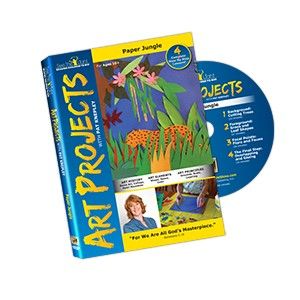 About Paper Jungle:
This DVD is geared for children ages 10 and up and sells for $14.99. This DVD contains 4 lessons that take approximately 30 minutes each. The 4 lessons included are as follows: Cutting Trees, Grass and Leaf Shapes, Flora and Fauna, and Overlapping and Gluing. The project will take about 3-4 hours to complete. A list of materials is also listed on the
webpage
. The DVD also focuses on artist Henri Rousseau as well as integrating Biblical lessons throughout the DVD.
How we used Paper Jungle:
My children are ages 11, 9 1/2 (10 in July), and 7. They were so excited to start this DVD and wanted to finish it all in one day. I made them do a lesson a day instead. They would watch the lesson all the way through one time. Then they would start the lesson over and work on their jungles, pausing the DVD as needed.
After they completed each days lessons, they had to make sure to keep all of their pieces together. My kids just piled up all their pieces and left them on the floor. I probably should have given them a file folder or ziploc bag to keep the pieces in- just in case.
My 9 yr old's project:
Before gluing- my 11 yr old's project:
What I thought about the DVD:
I loved this DVD as did my boys. I love that they are able to learn about a famous artist as well as learning from the Bible at the same time. They can't wait to watch this again and make another project using a different animal. As expected, my 7 yr old daughter did have some difficulties doing this project. I let her do it, because she didn't want to be left out. Another 5 star rating from us for Paper Jungle!
11 yr old's completed project:
9 yr old's completed project:
Check out what other crew members had to say about
See the Light Art DVD's
.