Take a glimpse into our home and you can usually find someone in our house playing a board game. My boys love to compete against each other and play a board game any chance they are given. When I was given the chance to review
The Presidential Game
, I knew my boys would love it before we even received it.
About the game:
The Presidential Game is a board game that includes red and blue chips, a tablet to keep score, die for each player, and politics cards. This game is appropriate for ages 11- adult and for 2 or more players. Each player or team decides what party affiliation they will have during the game. The players each roll one dice to see who goes first. After finding out which player goes first, each player or team will then decide how many weeks to campaign or fund-raise. A 30 week game should last approximately one hour. With each roll of the die, the player must decide if they are going to go to the states for fundraising or campaigning. If the player decides to fund-raise in one of the four states listed, they are allowed to pick one politics card. They must either play the card right away or they can keep it for a future turn.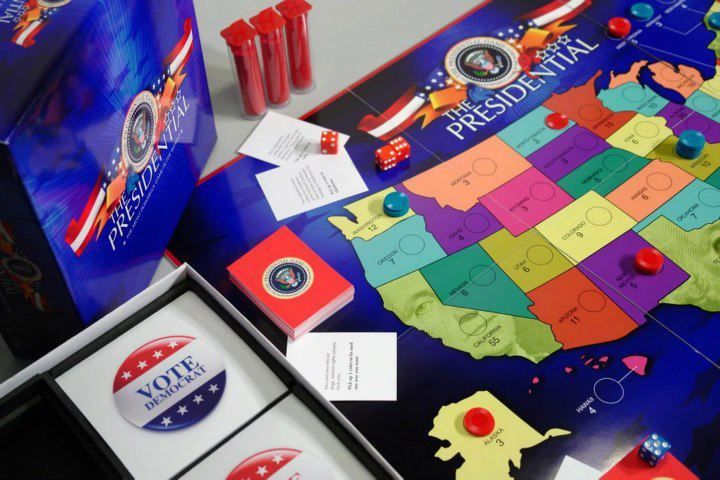 How we used the game:
When it first arrived, we wanted to play right away. One of my boys was finished with his school work for the day, so I let him play me first. We unloaded everything, read the directions, and began to play. My boys, ages 10 and 11, have also played this game whenever they have had the chance. I used this game as a great opportunity to once again go over the election process with my sons. They did remember quite a bit from last years election. They knew it took 270 electoral votes to become President. They also knew that a person must campaign and fund-raise in each state in order to get a person's vote. This was also a great time to introduce my (almost) 8 year old daughter to the election process. She did not play, but she did like to watch us play.
What we thought about the game:
We enjoyed playing
The Presidential Game
, but had a little trouble understanding the directions at first. The directions that came with the game did not specify how many dice to roll to fund-raise. I did find
online instructions
that specified to only roll two die. The directions also did not say if only one color could be on each state. For instance, if red had 5 votes, but blue wanted to place 6 votes, are we suppose to remove all of the red? We did play it both ways. Our first few games, we kept both colors on each state. After I read the
FAQ page
online, I realized that maybe we are suppose to remove the color that is not in control of the state. I was also confused on how to use the paper tablet that came with the game. I wasn't sure what to subtract and what to add, so we ditched using the paper and brought up the web calculator on my iPod touch. The calculator worked great on my iPod, but I kept forgetting to change what week we were on, so the first time, we only played until someone had 270 electoral votes. All other times, we kept up with what week we were on and it made the game play run much more smoothly.
Overall:
We really enjoyed playing this game once we got the hang of it. My boys love competing against each other. They try their best to strategize to win their 270 electoral votes by the end of the game. We give this game 5 stars!
The Presidential Game is available for
$35 plus shipping
on their website.
Click
here
to read what the others on The Schoolhouse Review Crew thought about the game.