My children love science, but the science curriculum we have been using for the past 7 years was starting to get too repetitive and not challenging enough for my boys. I was hoping to be able to review a science curriculum this year. I am so glad we were able to review
Apologia Educational Ministries
newest science curriculum,
"Exploring Creation with Chemistry and Physics."
We were also able to review each of the journals that go along with this curriculum. My 3rd grade daughter used the
Exploring Creation with Chemistry and Physics Junior Notebooking Journal
and my 5th and 6th grade boys shared the
Exploring Creation with Chemistry and Physics Notebooking Journal.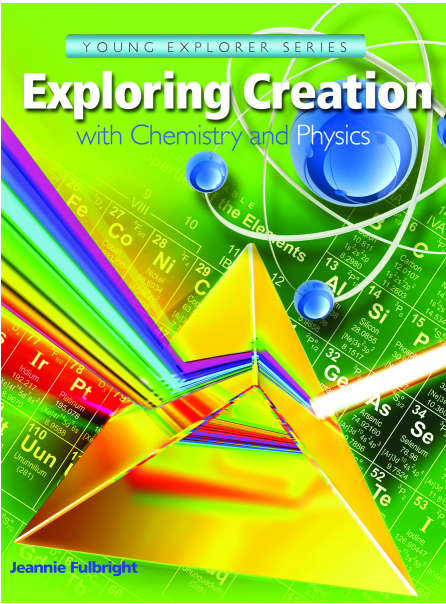 About Apologia:
Apologia is a Christian homeschool company that was started by just a few families who wanted a good, solid Christian based science curriculum. Apologia means to defend. Apologia science is designed to help the student "make a reasoned defense of the Christian Faith."
About Exploring Creation with Chemistry and Physics textbook:
This textbook is part of the Young Explorers Series and is written by Jeannie Fulbright. The elementary science is designed for children in grades K-6th. Apologia
homeschool science curriculum
follows a Charlotte Mason approach.
The textbook is a hard cover, full color book that is 272 pages long (lessons, supply list, and index). There are 14 lessons filled with so much information and many experiments. Each lesson can be taken at your own pace. You are able to spend as little (or as much) time as you would like. The accompanying notebook journals give a suggested schedule.
The lesson topics are as follows:
Chemistry and Physics Matter
Moving Matter
Building Blocks of Creation
Compound Matter
Multitude of Mixtures
Mechanics in Motion
Dynamics of Motion
Work in the World
Sound of Energy
Light of the World
Thermal Energy
Electrifying Our World
Mysterious Magnetism
Simple Machines
Each lesson includes many "Try This" experiments that use everyday around the house items. These mini experiments help the child understand the concept that is being taught.
The textbook includes a great introduction that explains the notebooking activities, projects and experiments, and how to use the book. Each lesson gives the child a chance to explain what they have learned so far. The end of the lesson gives the child the notebooking activities they are to complete.
About the Notebook Journals: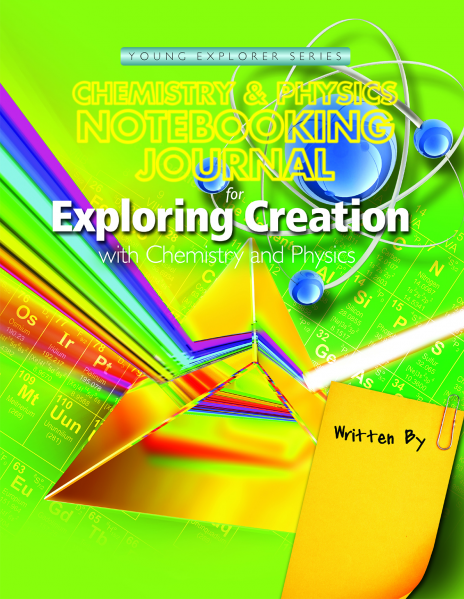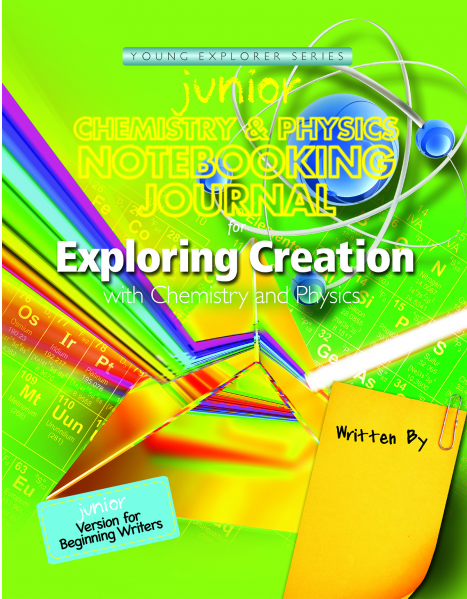 These Notebooking Journals are filled with many activities, copywork pages, "test it out" experiments, and end of lesson questions. The junior notebook, designed for younger students, also has coloring pages throughout the book.
How we used the curriculum:
I read the lesson pages to my children and when we got to a "try this" section, we would read it and decide if we wanted to do it. We did not do all of the"try this" experiments, but we did do several of them. We followed the lesson plans in the notebooking journal. It gives a guide of doing each lesson in two weeks. I went with the suggested daily schedule since I was using this with my 3rd, 5th, and 6th graders. My 3rd grader likes to go at a slower pace than the boys. My daughter worked in the junior notebooking journal while my boys shared the regular notebooking journal. Both of the boys dislike doing any copywork, so I had them take turns doing it.
What we thought:
My 5th and 6th grade boys are really enjoying this science curriculum. It is such a change to what we have been doing. They love all of the hands on experiments. My 6th grader wants to be a scientist when he grows up and this curriculum is right up his alley. He kind of wouldn't listen while I was reading because he "already knows all of it." He has learned some new things and cannot wait to do the many more experiments in the book. My 5th grader also loves science. He said he learned some new things and liked all of the experiments we did. My 3rd grade daughter said she was bored during the lesson, but liked to work in her notebooking journal. :)
I have really enjoyed using this curriculum and will definitely be looking into the other titles in this series for next year (or when we finish this book).
My favorite things were :
A Christian curriculum
Has many hands on experiments
Can be used with multiple grades
Is easy to understand
The
textbook
can be purchased for $39. The
Notebooking Journal
is $24 as well as the
Junior Notebooking Journal
.
Click to read more reviews
from the Schoolhouse Review Crew.