I have wanted my children to be able to learn a different language for quite some time. I have had a hard time finding a foreign language that was online, user friendly, and geared for elementary age children. I thought that I would have had to wait until high school before I could get my children to learn a foreign language. I was offered the chance to review
Mango Homeschool Edition
by
Mango Languages
.
About Mango Homeschool Edition:
With the Mango Homeschool Edition, you are able to pick one (or more) of over sixty foreign languages to learn.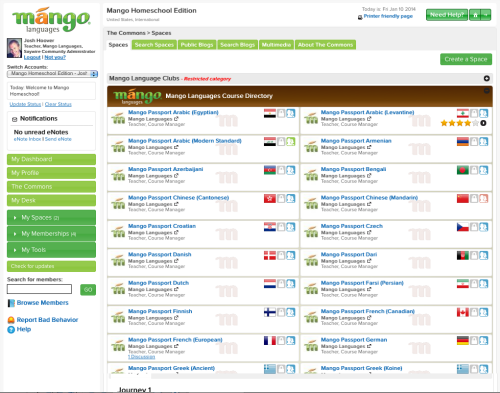 The homeschool program is very new and there were some features that we were not able to use yet that I will list below. We were basically given a beta version to test out.
The features that are already available are as follows:
~ Progress Assessments

~ Built-in journals, discussions and wikis
~ Collaborative learning spaces
~ eNote messaging
/chat rooms

~ Access to embedded/downloadable content

~ Support from other community members

~ Calendars to schedule meetings or study groups
Some other features that will be available over the next few months are as follows:
~ Enhanced Tracking and Progress Monitoring - including seat time (for students and parents)
~ Goals and Personal Lesson Plans (both stand-alone and tied into Mango courses)

~ Resume and Portfolio Builder
Mango Homeschool Edition
is priced as follows:
1 subscription is $18/month or $125/year total
2 subscriptions is $28/month or $175 /year total
3 subscriptions is $38/month or $225/year total
4 subscriptions is $48/month or $275/year total
5 subscriptions is $58/month or $325/year total
Anything over 6 subscriptions is a special group rate.
Mango Homeschool Edition is geared for children ages 6 through adults.
Using the product:
I was able to set up an account for each of my 3 older children and one for myself. My daughter, younger son, and I decided we wanted to learn some Spanish. My older son wanted to learn some Latin. We used this (almost) everyday after finishing up their regular homeschool work. My 3rd grade daughter lost interest after the first couple of lessons and I did not make her use it everyday. She used it a couple of times a week or just listened in when my younger son and I did our lessons.
Once you are logged into your account, you have to then log in to the language that you are studying:
You are then taken to a welcome back screen where you can choose to resume your lesson, browse the course menu, or take a placement test:
I exited during the lesson and it remembered where I had left off:
And when you make it to the end of the lesson, you get a congratulatory screen:
When we started the lesson, we went through all of the cards in the chapter. We would listen to the word or phrase and repeat out loud what was said. We did not hook up a microphone to the computer even though the program is capable of having one hooked up to hear you say the words. See the picture below.
If we didn't understand what was said the first time, we were able to replay the word and listen to it until we learned it. We were able to get through a lesson fairly quickly. This program only takes about 10-20 minutes a day depending on how fast or slow you go through each lesson.
What I liked:
I liked how short each lesson was to complete each day. I also liked that there are "Grammar Notes" mixed into the cards. These cards explained what some of the differences in the language meant or gave a little background history.
Another feature that I liked was the "files" section in the Spanish course. These pdf files made it easy to look back over the lessons and review some of the words. I'm hoping that each of the different languages will eventually all have their own files. The Latin course does not at the time of this review and it was difficult for my son to remember some of the words. I did try to encourage him to keep a journal.
I also liked the quizzes at the end of each chapter. It helped to know if we were retaining any of the info we were learning. I just would have liked to have had the answers to the quizzes to see what questions we missed (which they are working on).
One more thing before I end, I also went through a lesson of Pirate and had fun learning some Pirate sayings:
Stay in touch with Mango Languages through their social media pages:
Twitter:
https://twitter.com/MangoLanguages
Pinterest:
http://www.pinterest.com/mangolanguages/
Facebook:
https://www.facebook.com/MangoLanguages