Trying to keep a clean house while homeschooling can sometimes be a difficult task. I have tried many other
planners
and house cleaning schedules, but I could still never keep up with what they wanted me to do everyday.
I had heard of
Motivated Moms
, but had never given it a try. I even tried to win the planner a few times, but then when I didn't win, I also didn't buy it. I really don't know why I never tried it when I had heard such great things.
Having bought myself an iPod touch for Mother's Day last year, I have been looking for apps to try out. In fact, I did try out the Motivated Mom's lite app, which is a two week preview of the
Motivated Moms iOS app
.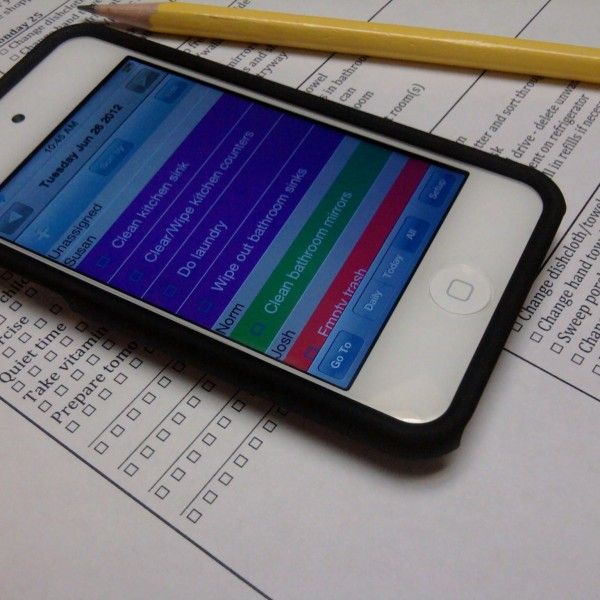 What is Motivated Moms?
Motivated Moms is a "chore planning system to help you have a clean and organized home." Basically, it is a daily list of tasks that can be completed in a short amount of time. There are several "daily" tasks given- meaning these are tasks you do every day. Then there are several small tasks ("today's tasks") to be completed around the house. Each day focuses on many different areas of the home, so that you are continually cleaning each room, just not all at once. The today tasks are divided up to include monthly, weekly, and periodic tasks that you should be doing throughout the year. For instance, some of the tasks include change sheets, water inside plants, and clean out the microwave. The task list also includes a lot of stuff that you would not normally think of such as clip children's fingernails and clean out your purse.
Some Features of the iOS App:
You are able to check off each task after it is completed. The task moves to the bottom of the list and you are also able to hide it if you want.
You are able to assign the tasks to different people (a different color for each person). You are able to download the app to all the iOS devices in your household and sync the devises by signing in with your username and password. Each person can then look at the list on their device to see what tasks are to completed and by whom.
Another feature is that you are also able to sort the tasks for the day to each room in the house. At a quick glance, you are able to see what rooms need to be done.
Some other features of the app are as follows:
Ability to add custom tasks
No doing cleaning all in one day, the tasks are easy and spread out throughout the year
Ability to hide tasks that you don't want to see: for instance, there is a daily Bible reading included each day. If you don't want that to show up every day, you are able to turn it off
You are able to sort alphabetically, sort by person. sort by room, or sort it to your own liking: if you want a certain task to be first each morning, you are able to sort it so it shows up first every day
The
iOS app
is available in the app store for $1.99 for two months. Each additional month is $0.99 or one full year for $7.99. This app works on your iPhone, iPod touch, and iPad. It requires iOS 5.1 or higher. This app is for moms, but you are able to sync this app between two Apple devices. Motivated Moms is also available in print form and android form.
How I Used Motivated Moms:
I usually looked ahead to each day before heading to bed. I wanted to see what was coming up. Some days, I only managed to get a few tasks done. If you don't get a task done, don't worry because chances are it will show up again in a few weeks. I tried to get most of the daily tasks done before working on the tasks assigned for the day. I also assigned some of the tasks for the day to my children (ages 12,10, 8 and 3). Especially little things like feed the pets, empty the trash, and clear the kitchen counters.
What I Thought:
I have really enjoyed using this app. I am glad to have found a cleaning schedule that will work with my busy days. I really liked that the task list included little things like replenish the bathroom with toilet paper and clean the computer screen and mouse. These are tasks that are usually done anyway, but sometimes when you get busy doing other things, it's nice to have a reminder. I also liked the tasks that told me to pamper myself or to spend time doing a craft. I also liked how easy this app is to customize to your needs. You can hide tasks or add tasks very easily. I would definitely recommend this app.
Be sure to check out what the rest of the
Schoolhouse Crew
thought about Motivated Moms.