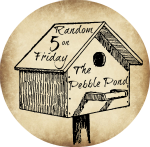 I am joining in on this week's edition of Random 5 on Friday hosted by Miranda at
The Pebble Pond.
1. We have one more week until we are starting our new school year. Starting date is July 28.
2. We are doing the 6 weeks on/ 1 week off schedule for the 1st time ever. I have been homeschooling 8 yrs and need some type of schedule that will work for us and I think this is it. We will still take 2 weeks at Christmas.
3. My 2nd son's birthday is coming up on the 22nd and he wants me to make him a flan. You can find the recipe I use
here
.
4. We are branching out from Abeka this year and using Mystery of History for history and Apologia and Science in the Beginning for science.
5. My 8 yr old daughter likes to boss her 3 yr old sister. :)