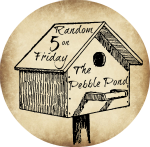 1. I had 3 reviews due this week all right in a row. So, that means there are 3 giveaways going on right now and you can enter them by
clicking here
.
2. I had one sick girl this week. My oldest daughter had a stomach bug for about 3 days.
3. I cut out sweet tea and soda for this month and I am already down 4 lbs since last Friday.
4. My husband, two boys, and I played a great board game this week (
Wisdomantics
) and had a lot of fun.
5. I am looking forward to it being spring.
I am linking up at
The Pebble Pond
with other bloggers for Random 5 on Friday.