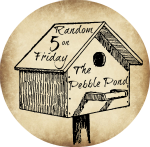 1. I started writing a short story last year, but then my hard drive crashed. I really want to rewrite the story, but can't remember some parts of the story. I just need to start writing and see where it goes this time.
2. I'm in a dinner rut. It seems like I am always making the same meals over and over again, but when I try a new recipe, my family never seems to like them even though I think they are great.
3. In one month I will have a teenager! Where did the time go?
4. The almost 13 year old has surprised me this week. We are on writing paragraphs unit for grammar and he has done so well writing some of the paragraphs they ask for.
5. Looking forward to a girls day tomorrow with my two beautiful girls.
I am linking up over at
The Pebble Pond
.