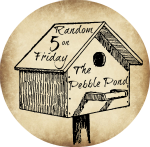 1. I have some review posts that I need to work on and get up in the next couple of days.
2. I was going to participate in
Family, Faith, and Fridays
34 weeks of cleaning this week, but only got one cabinet cleaned out. I am still going to try to finish and get my post linked up over there.
3. Researching curriculum for next year. My oldest will be in 8th grade!
4. It is rainy. It has rained so much this winter. Last year we had snow- lots of snow. That is North Carolina weather for you.
5. I can bake most any type of dessert. I have made 3 pans of brownies in the last week and none of them have turned out. I cannot make brownies. I have never had any brownie recipe turn out good. Any other dessert recipe I can do. I'm not sure why I can't make brownies.
I am linking up over at
The Pebble Pond
.