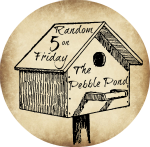 1. We are counting down the days until summer break. I haven't decided yet if we are going to take a spring break or just keep going. We may take a couple days for some field trips.
2. My youngest let me french braid her hair. It turned out okay.
3. I have bought almost all of our curriculum for next school year.
4. I need to finish up a couple of reviews this weekend.
5. We have had some beautiful spring days in North Carolina. I cannot wait until it stays warm and we can get out to the park and beach.