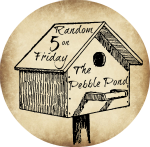 1. We are taking today and Monday off for Spring break. We are scheduled to be done on May 15.
2. I am happy that spring is finally here.
3. Looking forward to a great Easter service at church.
4. My boys participate in Trail Life and went on a camping trip a couple of weeks ago. They hiked 12 miles while on the trip.
5. This year is going by entirely too fast.